home

GERMAN MASTERS SALE
Very successful German Masters Sale 2017!
A crowded Bitburger Sales Arena last Friday (30. October) during the 4th German Masters Sale. Many people from all over the World attended this sale and caused a great atmosphere. The 157 lots selling averaged € 4.728 with lots sold to 15 different countries.
The topseller of this edition was Col NH Indy-Red, she is the highest R&W RZG heifer in the breed with RZG 166 and sold for € 38.000 to Hokovit Genetics from Switzerland and partners.
The 2nd highest seller in the sale was Lot 19. Hul-Stein Fedi 2, she is one of the highest flush-age heifers in Europe with GTPI +2796, sired by Jedi and out of the Glen Drummond Splendor cow family. She was purchased by the new breeding program of Classic Cattle of Gerwin Kosters, the Netherlands. Classic Cattle also purchased the additional Lot A in the sale, Hul-Stein Cameo 2 – she is the highest Net Merit heifer in Europe (NM $ 979 / GTPI +2806), she sold for € 16.500.
The demand for top show cattle this sale was very high. There was global interest for Lot 31 in the sale, Mattenhof Giuliana, a Beemer daughter from the Swiss Expo-, Expo Bulle- and European Grand Champion: Galys-Vray EX-94-CH. Mr. Philippe Arnold from Luxembourg was the successful buyer for € 19.000 on this great heifer.
Elitehaven Genetics is the proud new owner of Lot 1. from the German Masters Sale 2017 – SPH Yelena VG-89-DE – a cow which proved herself as a great transmitting cow, she delivered many high ranking genomic progeny, has multiple sons in AI and is now working on a great career as a show cow. SPH Yelena sold for € 17.000.

Sale facts
Lots sold: 162 Lots selling – 157 SOLD (97%) € 4.728
Avg. price live lots: € 4.728
Avg. price embryo's: € 727 / embryo
Price range: € 1.200 - € 38.000
Lots sold to: 15 differen countries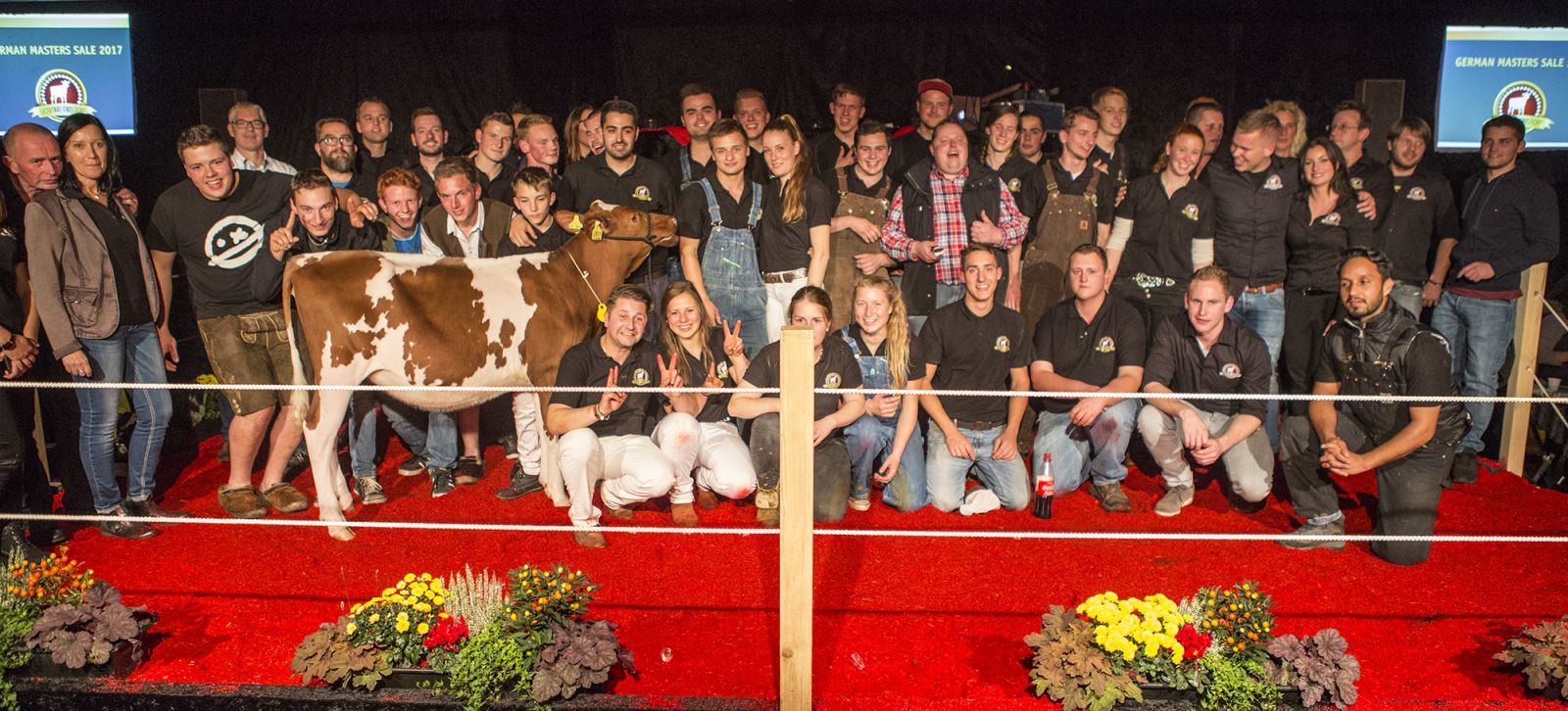 Sale team German Masters Sale 2017 with topseller Col NH Indy-Red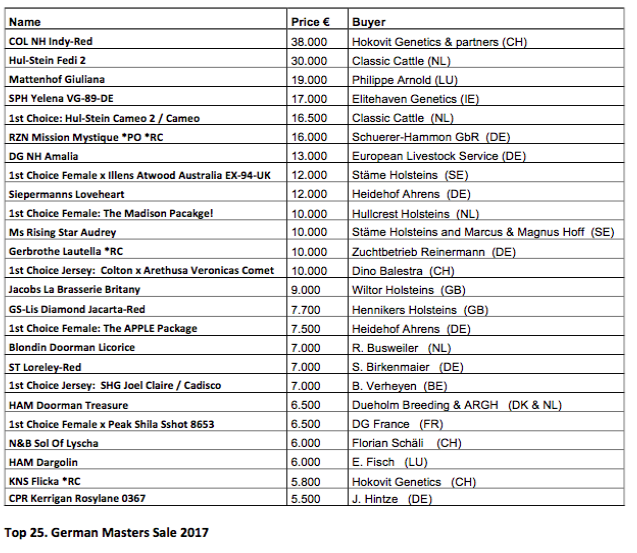 Complete buyerslist through www.germanmasterssale.com



| | | | |
| --- | --- | --- | --- |
| # | Name | Price | Land |
| 1 | SPH Yelena VG-89-DE | 17.000,00 | IE |
| 2 | Ekkel Youtube | 3.200,00 | DE |
| 3 | Thosta Doorman Grace | 5.000,00 | DE |
| 4 | GS-Lis Diamond Jacarta-Red | 7.700,00 | GB |
| 5 | KOE Lacey-Red NC | 3.200,00 | DE |
| 6 | COL NH Indy-Red | 38.000,00 | CH |
| 7 | Rhala RE Macarena-Red | 3.000,00 | DE |
| 8 | NH Anderstrup Marta PP-Red | 2.600,00 | DE |
| 9 | NH Anderstrup Mona Lisa Red P | 2.800,00 | DE |
| 10 | Wilcor Glauco Maebell VG-85-DE 2yr. | 3.800,00 | LU |
| 11 | NH Megasire Evita NC | 2.200,00 | DE |
| 12 | NH Arvis Endless *RC | Not Sold | |
| 13 | Delawer NC | 2.000,00 | ES |
| 14 | NH Lila K NC | 2.200,00 | IE |
| 15 | HH Beemer Covergirl | 3.600,00 | DE |
| 16 | Embryos: #5 Undenied x Cameron Diazz VG-85-DE 2yr. | 500,00 | DE |
| 17 | Mox Solomon Ragstar | 3.600,00 | DK |
| 18 | Mox Atw Rock'n Roll | 4.000,00 | AT |
| 19 | Hul-Stein Fedi 2 | 30.000,00 | NL |
| 20 | CPR Kerrigan Rosylane 0367 | 5.500,00 | DE |
| 21 | DG PG Candle | 3.200,00 | ES |
| 22 | DG PG Charming | 1.700,00 | DK |
| 23 | NH Kerrigan Cosmo | 2.000,00 | FR |
| 24 | FG Jamandra *RC VG-87-DE | 5.000,00 | FR |
| 25 | KNS Golden Town NC | 2.300,00 | DE |
| 26 | Morel Idol EX-90-DE EX-91-MS | 3.400,00 | LU |
| 27 | HAM Fire NC | 3.000,00 | DE |
| 28 | Wit Mo NC | 3.000,00 | LU |
| 29 | Schönhof's Durbin Gadget NC | 4.000,00 | LU |
| 30 | Balsters Sheila NC | OUT OF SALE | |
| 31 | Mattenhof Giuliana | 19.000,00 | LU |
| 32 | HAM Doorman Treasure | 6.500,00 | DK & NL |
| 33 | 1st Choice Female: The Madison Pacakge! | 10.000,00 | NL |
| 34 | Embryos: #4 MAS x RZN Enya-Red VG-88-FR | 700,00 | DE |
| 35 | Wilcor-PG Amalia *RC | Not Sold | |
| 36 | Ms Rising Star Audrey | 10.000,00 | SE |
| 37 | NH Atacamas Girl | 2.800,00 | GB |
| 38 | HWL Handy | 3.600,00 | IT |
| 39 | Gerbrothe Lautella *RC | 10.000,00 | DE |
| 40 | RZN Layla-Red | 4.200,00 | DK |
| 41 | SHS Lila-Red *PO | 2.800,00 | DE |
| 42 | Siepermanns Sissi *RC | 2.300,00 | NL |
| 43 | Ms Salvatore Attraction *RC | 4.600,00 | CH |
| 44 | HMH Carli-Red VG-86-DE | 3.000,00 | DE |
| 45 | Wilt Ebay VG-87-FR La1 | 4.000,00 | DE |
| 46 | AH Future VG-86-DE 2yr. | 4.500,00 | LU |
| 47 | Mox Bella VG-86-DE 2yr. | OUT OF SALE | |
| 48 | KHW Ladykracher NC | 3.100,00 | BE |
| 49 | DG Caps Mairy NC | 3.200,00 | GB |
| 50 | AH NH Snowball NC | 2.400,00 | NL |
| 51 | Paeßens Armani VG-85-DE 2yr. | 2.700,00 | LU |
| 52 | EBA Externe NC | 2.100,00 | DE |
| 53 | EBH Outlast Externe | 2.300,00 | IT |
| 54 | HS Delania | 2.800,00 | LU |
| 55 | PM Biola NC | 3.500,00 | DE |
| 56 | NH Glamour-Red NC | 3.600,00 | NL |
| 57 | Bel Doorman Zita | 6.700,00 | DE |
| 58 | Embryos: #4 embryos x Bel Doorman Zita | 600,00 | DE |
| 59 | N&B Sol Of Lyscha | 6.000,00 | CH |
| 60 | Siepermanns Doorman Lizzy | 5.500,00 | BE |
| 61 | Lylehaven Lilly | 4.500,00 | DK |
| 62 | Hul-Stein Cory | 3.600,00 | DE |
| 63 | Rhala Hul Chalyssa | 4.800,00 | IT |
| 64 | DG Eva | 2.600,00 | DE |
| 65 | DG Evelien | 1.400,00 | DE |
| 66 | DG Vekis M Diana | 1.600,00 | GB |
| 67 | DG Emaline | 1.300,00 | GB |
| 68 | HAM Beaujolais Red P | 4.800,00 | CH |
| 69 | Antony's Belle-Vue Joyce-Red | 2.400,00 | NL |
| 70 | C-Sold Berlin-Red | 2.800,00 | DK |
| 71 | Mox Breystar | 2.800,00 | GB |
| 72 | NH Beemer Sherry | 2.800,00 | DE |
| 73 | HAM Tammy *RC | 2.600,00 | IE |
| 74 | Lory-Koba Leyla | Not Sold | |
| 75 | Embryos: #4 FEMALE SID x JK Eder DG Darling 2 EX-90-NL | 550,00 | DE |
| 76 | Dunkhorst Atwood Fey NC | 3.600,00 | DE |
| 77 | Brigeen Roberta *RC NC | 2.000,00 | AT |
| 78 | HKH Carmen NC | 3.000,00 | DE |
| 79 | Seeger Ted Marcy-Red NC | 3.800,00 | NL |
| 80 | LOH Let's Go NC | 2.600,00 | DE |
| 81 | HAM Cinatown NC | 2.200,00 | DE |
| 82 | BaS Toto VG-85-DE 2yr. | 4.000,00 | DE |
| 83 | Wit Erin NC | 2.500,00 | DE |
| 84 | Malinka *RC *PO NC | 2.400,00 | IE |
| 85 | HKH Rose NC | OUT OF SALE | |
| 86 | NH Fatima *RC NC | OUT OF SALE | |
| 87 | Lis Spirrit NC | 2.400,00 | NL |
| 88 | 1st Choice Female Jersey | 10.000,00 | CH |
| 89 | Rose Evetty *PP | 4.000,00 | LU |
| 90 | Mox Blooming Bacardi | 3.800,00 | CH |
| 91 | THI Francesca | 2.800,00 | DE |
| 92 | Lis Tamila-Red (VRC) | 3.200,00 | BE |
| 93 | KWH Goldina-Red (VRC) | 3.600,00 | DK |
| 94 | 1st Choice Female x Illens Atwood Australia EX-94-UK | 12.000,00 | SE |
| 95 | Jacobs La Brasserie Britany | 9.000,00 | GB |
| 96 | Embryos: #4 FEMALE CHRUS x Jacobs Archrival Blingo | 900,00 | BE |
| 97 | Embryos: #4 FEMALE JACOBY x Watermolen Archrival Cammolie | 900,00 | DE |
| 98 | AM-HJ Insight | Not Sold | |
| 99 | NH County Ilma | 2.600,00 | DE |
| 100 | DG NH Amalia | 13.000,00 | DE |
| 101 | 1st Choice Female x Peak Shila Sshot 8653 | 6.500,00 | FR |
| 102 | NH Sunview Madison | 4.000,00 | DE |
| 103 | PrismaGen Miss Sansibar | 4.000,00 | NL |
| 104 | DG DV Darita C | 1.800,00 | DE |
| 105 | DG Runa | 1.200,00 | DK |
| 106 | DG PG Tayra | 1.700,00 | DK |
| 107 | Siepermanns Loveheart | 12.000,00 | DE |
| 108 | Blondin Doorman Licorice | 7.000,00 | NL |
| 109 | Mox Rockbaby | 4.500,00 | AT |
| 110 | Hobbies Pandora *RC | 4.500,00 | DE |
| 111 | TGD Trina *RC | OUT OF SALE | |
| 112 | Fradon Jacoby Joan *RC | 3.000,00 | FR |
| 113 | NH Silence-Red | 2.400,00 | DK |
| 114 | WEH Arielle | 4.800,00 | DE |
| 115 | KNS Flicka *RC | 5.800,00 | CH |
| 116 | KNS Fidelity *RC *PP | OUT OF SALE | |
| 117 | COL DG Candera *PO | 5.200,00 | DK |
| 118 | COL Caroline *PP | 2.500,00 | DE |
| 119 | Schurtis Mamma-Mia *RC | OUT OF SALE | |
| 120 | Wilder Halma | 2.800,00 | FR |
| 121 | Föskes Erin | 3.500,00 | NL |
| 122 | Ms Styx Galactic *RC | 4.000,00 | LU |
| 125 | Embryos: #4 Wagyu embryos | 1.000,00 | DE |
| 126 | Embryos: #3 FEMALE Wagyu embryos | 900,00 | DE |
| 127 | GS Ruegruet Atlee | 3.700,00 | DK |
| 128 | NH DG Sid All Time Favourite | 5.200,00 | GB |
| 129 | Ruben Adeenia *RC | 2.200,00 | DE |
| 130 | DG Hullcrest Adora | 2.200,00 | DE |
| 131 | ZS Goldy | Not Sold | |
| 132 | Embryos: #4 EMILIO x Flora Atwood Adeena VG-87-ES 2yr. | 450,00 | BE |
| 133 | RZN Mission Mystique *PO *RC | 16.000,00 | DE |
| 134 | ST Loreley-Red | 7.000,00 | DE |
| 135 | GIL Emerich Minna | 2.100,00 | LU |
| 136 | HBL Happy | OUT OF SALE | |
| 137 | MS Modesty Asia | OUT OF SALE | |
| 138 | 1st Choice Female: The APPLE Package | 7.500,00 | DE |
| 139 | HAM Dargolin | 6.000,00 | LU |
| 140 | Wilcor GD O'Kassidy *RC | 4.700,00 | BE |
| 141 | NH DB O'Kadabra | 3.500,00 | GB |
| 142 | Lohman O'Kalif-Red | 3.300,00 | IT |
| 143 | HAM Jenny | 3.000,00 | FR |
| 144 | Seegers Charisme | 3.200,00 | DE |
| 145 | WIT Maryam | 2.700,00 | ES |
| 146 | CNN Modesty Estelle | 4.200,00 | DE |
| 147 | KNS Conny | 3.200,00 | GB |
| 148 | NH DG Emerich Palina | 3.000,00 | DE |
| 149 | DG Poppy | 3.500,00 | DE |
| 150 | AH NH Priska | 3.200,00 | IT |
| 151 | A-L-H Cleopatra | 3.300,00 | DK |
| 152 | Scientific Beemer Rae *RC | 4.500,00 | DE |
| 153 | Goedekers Locket | 3.400,00 | DK |
| 154 | Schwartz Milka | 2.500,00 | DK |
| 155 | 1st Choice Female x Ms Milksource RL Kalypso | 5.000,00 | DE |
| 156 | Embryos: #4 FEMALE UNIX x JK Eder DG Esmeralda VG-89-NL 3yr. | 850,00 | IE |
| 157 | Embryos: #4 FEMALE SOLOMON x Carf Emeraude EX-91-NL | 400,00 | FR |
| 158 | HAM Rosalin | 2.200,00 | DE |
| 159 | FG King Alpha Marabou-Red *P | 4.000,00 | DE |
| 160 | Aurora-Rama Affair | 3.000,00 | DE |
| 161 | NH Beemer Beloved | 2.000,00 | NL |
| 162 | Gödeckers Malibu | 3.000,00 | DE |
| 163 | Ivo's Gain Patsy | 3.200,00 | DE |
| 164 | Wilstar Apples Anastasia Red | 5.000,00 | IE |
| 165 | DG ARGH NH Applause-Red | 4.500,00 | DE |
| 166 | Wilcor vt Marlene-Red | 3.200,00 | DE |
| 167 | DG R Nicolette *PO | OUT OF SALE | |
| 168 | DG Shanelle | 1.200,00 | DK |
| 169 | WEH Gigi | 3.000,00 | DK |
| 170 | Semen: #5 straws of GOLDWYN Semen | 600,00 | DE |
| 171 | FG KOE Gentleman | 5.000,00 | DE |
| 172 | Embryos: #3 ATWOOD x Lady Gaga EX-97-DE | 1.100,00 | DE |
| 173 | Additional lot, see extra sheet: 1st Choice Female | 16.500,00 | NL |
| 174 | Additional lot, see extra sheet, 1st choice Female | 7.000,00 | BE |