home

Trade to 14 different countries at German Masters Sale
The German Masters Sale '16, held last Friday (21.10) has been an other very successful edition. The 136 lots sold for an average price of € 5.173 to buyers out of 14 different countries. Visitors from all over the world came to the RUW Auktionshalle in Bitburg. The Hall was fully crowded from the start until the end of the sale and with a great atmosphere.
Topseller in the German Masters Sale was KNS Garden, consigned by KNS Holsteins, a Jedi daughter with GTPI +2782 out of Mardi Gras x Iota from the KNS Grand Prix cow family. Garden sold for € 39.000 to Genesland and European Livestock Service from Germany.
Tynevalley Bambi from the United Kingdom was the 2nd highest seller in the sale and will move for € 23.000 to the barns of De Veelhorst Holsteins and Vekis Genetics in the Netherlands. Bambi has 163 RZG and >2600 GTPI and goes back on Gen-I-Beq Shottle Bombi EX-94-USA.
SALE FACTS
Lots sold: 136
Average price live lots: € 5.173
Average price embryo lots: € 675 / embryo
Price range: € 1.400 - € 39.000
Sale organisation: Eurogenes, Nosbisch Holsteins & RUW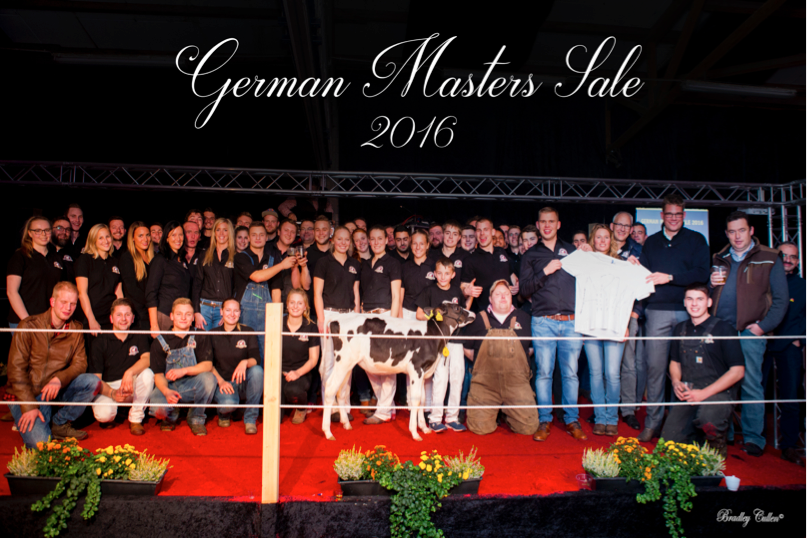 GERMAN MASTERS SALE 2016
Vrijdag, 21 Oktober 2016 | Bitburg, Duitsland
PICTURES & VIDEOS
Click here for all PICTURES Click here for all VIDEOS
LIVESTREAM & ONLINE BIDDING
LIvestream & online bidding through www.livedairyauction.com